With the increasing density of significant competitors in the financial space, businesses and individuals constantly seek new means to engage and serve their customers in unique and meaningful ways.
On the other hand, the pandemic of coronavirus infection also had a significant impact on rethinking and acceleration of business strategies, making digitalization of conventional processes planned for years complete in a much shorter period of time.
As a result, many financial services have merged with a great variety of non-financial software, thus crucially changing the financial world of businesses and consumers.
In order to occupy a solid position on the market, more and more non-traditional financial players are trying their luck in consumer financial services and incorporating financial mechanisms into their business approach, resulting in the inception of the era of embedded finance.
What it Actually Means to Embed Financial Services
Embedded finance is the adoption of financial products and services by non-financial organizations that have absolute control over the service offering and subsequent customer experience.
By financial products and services, we mean digital wallets, payments, money transfers, debit/credit cards, lending, bill payments – in other words, everything connected with money interaction.
The model in which authorized banks provide non-financial companies with an embedded integration of banking services is called BaaS, or Banking as a Service.
With BaaS, on the one hand, previously exclusive bank services that required strict regulations and supervision have become available to the general public. On the other hand, with no need to get a specialized license to control the financial services, businesses can enjoy significant savings. Thereby, this outstanding combination is much greater than the sum of its parts, and all participants involved are benefitted.
The Current Phase of the Embedded Finance Ecosystem
Although the concept of embedded finance is still being streamlined, some brightest minds already name at least four types of participants of the embedded finance market: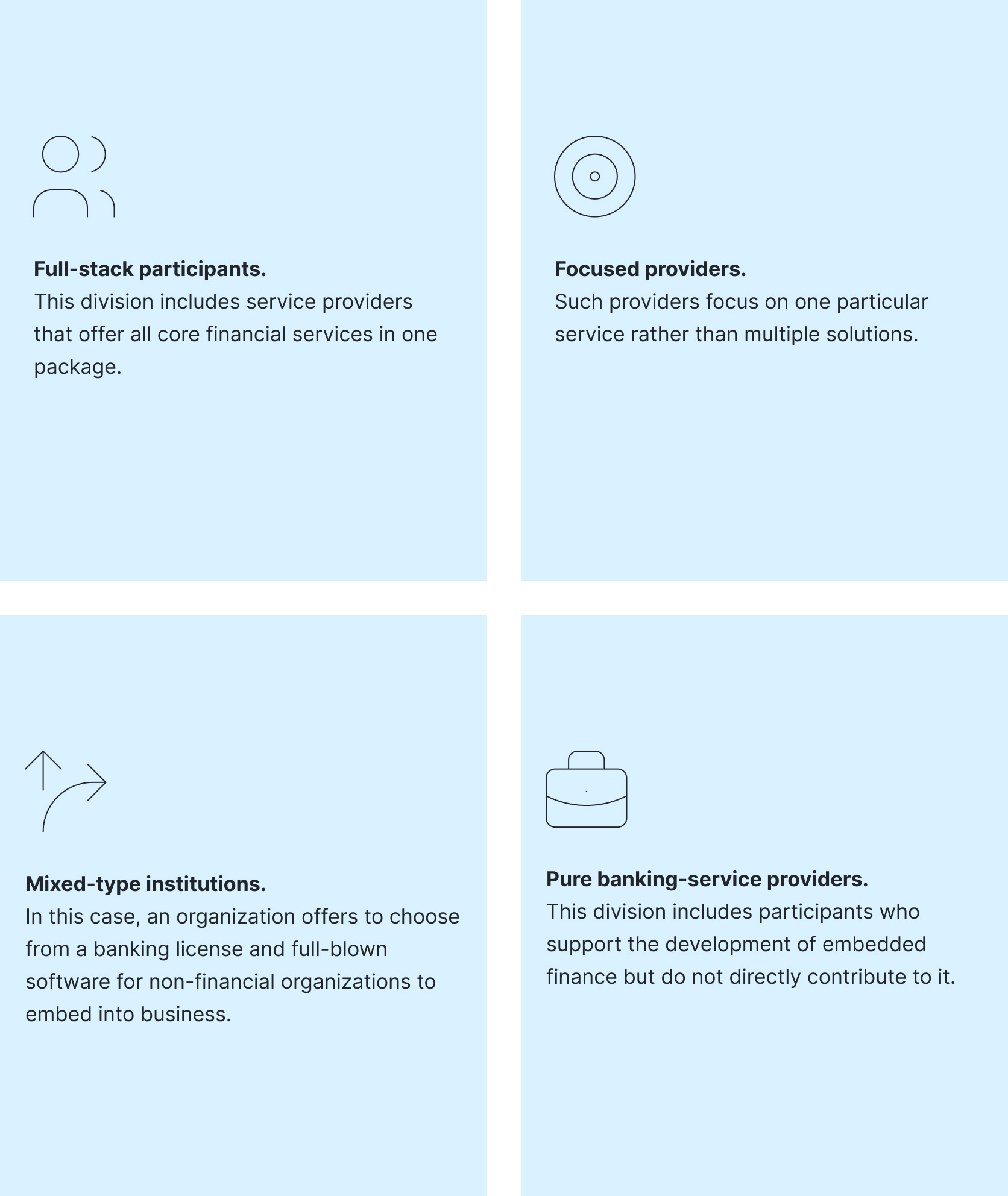 Of course, over time, the participants from one group may enter other divisions, merge with the different providers, or disappear. That's why such division is quite ephemeral and subject to strong fluctuations.
Embedded Finance for Business
Indeed, embedded finance opens almost unlimited opportunities that more and more businesses are tapping into due to the convenience that ultimately comes with it.
While the most evident advantage is that companies can yield a lot due to the improved customer experience, there are multiple extra perks that can naturally boost business' revenue.
First of all, it is an increased reach-out potential, allowing companies to attract never-before-serviced customers and expand their customer base. Secondly, it is opening new revenue streams due to offering new products and services tailored to the customers' needs.
And finally, it is the opportunity to significantly cut the operational costs. In fact, until a few years ago, embedded finance required an enormous contribution in resources and time. However, with the overall digitalization and progress, it has become possible to focus on and invest money in other crucial aspects like tech optimization, enabling businesses to outperform competitors and increase market share.
Embedded Finance for Consumers
Behind embedded finance, there is a revolutionary shift in customers' habits, resulting in an increased desire to contract financial services with alternative providers that supported the progression from physical to digital.
Looking ahead of time, it is clear that the trend will only get stronger and make businesses interact with new and existing audiences exclusively or almost exclusively online.
This, in turn, has already empowered the Bank-as-a-Service field with excellent growth potential compared to traditional solutions. It has enabled its customers to get more unique and customizable features and opportunities, as well as more competitive offers, resulting in better prices, higher speed, and improved functionality.
Thus, the customer has a frictionless, more convenient, more agile, and manageable experience, where banking transactions are available when and where they need them.
Shall Banks Start Worrying?
Many banks are worried that the partnership with third parties may threaten their customers' choice. Actually, if the number of embedded finance users skyrockets, banks may have nothing but to stick to the BaaS business model. However, the good news is that empowering businesses to spread banking services can be a highly beneficial deal for banks.
Indeed, banks long ago started a struggle to hold the financial space. And with the blazing speed of market digitalization, only revision of expenses and subsequent investment in cutting-edge technologies may help banks keep up. That's why offering BaaS through undergoing digital transformation and modernization may become a fantastic solution to retain customers and remain a key player able to impact on rules of the game.
What to Expect in the Coming Year
It is early to say precisely how the market will evolve. One way is that BaaS will become as omnipresent as digital banking, a feature that every bank will incorporate and maintain.
Another way is the market dominated by several big players. By this approach, a few BaaS providers that already stay one step ahead regarding technology, products, and cost will likely form unbeatable advantages in the entire space.
Nevertheless, the future must lie in collaboration. With innovation and access as the primary goals, both banks and the fintech sector must work together towards customizable products offered in context.
Embedded Finance Identifies Leaders In Fast-Developing Fintech Environment?
Verifo, as one of the key providers of BaaS in the European market, firmly believes that using an embedded finance approach may help any business effectively and efficiently use their time and money.
But how to incorporate a fintech solution fast and stress-free? And what features to prioritize?
First of all, in order to be competitive and provide a better client experience, it is vital to collaborate with a top-of-the-range fintech that manages to combine cutting-edge solutions and a development-focused approach.
We at Verifo strive to become an ultimate expert technology partner to satisfy clients' fintech needs. We constantly help licensed financial institutions focus on their business extension, retain customers on their platform, automate payments, and settle globally.
Besides, we genuinely believe in the power of banking as a service infrastructure and do our best to allow each client to introduce their services in weeks, not years.
With deep expertise and vast experience in the financial niche, Verified Payments offers a unique approach based on cost efficiency and time economy. Moreover, as a partner, we take care of everything that can help your business grow and prosper: risk management, security, and smooth overall processes.
We are specialists in identifying the best features for implementation, and results achieved due to it are our pride.
Summing up
To sum it up, it is necessary to highlight that embedded finance is a powerful tool of market grab. It helps numerous businesses drive new traffic, develop new revenue streams, and save money to focus on other significant aspects. Customers, in turn, get an unforgettable experience due to incredible freedom of choice and reduced bureaucracy.
The banking sector, however, may seem the only player who does not benefit from the new game rules. But if banks opt for developing a BaaS strategy today, with a practical understanding of the needs towards transformation, they will shortly see the profit.